Huntly
Huntly is a rural township on the Midland Highway, 12 km north-east of Bendigo, but only a few kilometres beyond Bendigo's urban fringe. The name is thought to have been inspired by Huntly, Aberdeenshire, Scotland. The name was first given to the local parish in a map drawn in 1854.
Bendigo was the site of one of Victoria's largest gold rushes in 1851, but prospecting did not extend to Huntly until some years later. It was used for pastoral and horticultural activities for food for the gold fields.
In 1857 an Anglican school was opened at Huntly, and a Presbyterian school in 1860. (The Anglican one became the State primary school in 1869 and the Presbyterian one closed in 1870). Huntly underwent a gold rush in 1859, and during the 1860s a company mined the deep lead which ran from Epsom to Huntly. Several hotels were opened, timber cutting was done for mine props and railway sleepers and farming intensified along the Bendigo and Back Creeks. In 1861 a district road board was created, which was succeeded by Huntly shire on 13 July 1866. In 1864 the railway line from Bendigo to Echuca was opened, passing about 1 km south of the township.
By 1903 mining had declined and Huntly was described in the Australian handbook: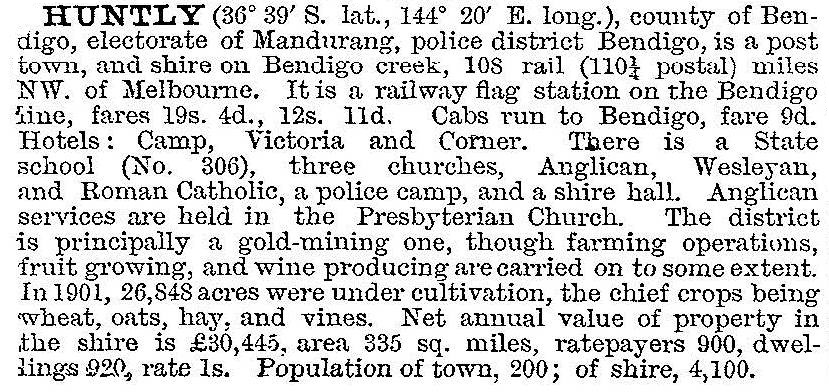 During the 1920s the mining of pipe clay and tomato growing were local industries. Until irrigation in the Goulburn Valley increased tomato growing in that area, Huntly tomatoes supplied Melbourne markets and preserving factories. During the 1940s-60s large quantities of poultry and eggs were supplied from Huntly.
The gradual loss of population to neighbouring Bendigo has been reversed since the 1980s, with Huntly gaining residential development within commuting distance of Bendigo. Skilled wokers were encouraged to build in subsidised housing estates in 2012 on the northern fringe. Natural gas connection to Huntly was confirmed. Huntly has a school with 187 pupils (2014), Anglican and Catholic churches, public reserves, two former shire halls (1867, 1977), a former court house (1874) which became the home of the Loyal Sir Henry Barkly Lodge in 1930, and a memorial hall (1922). The first shire hall and the court house are heritage listed.
Huntly's census populations have been:
| census date | population |
| --- | --- |
| 1871 | 495 |
| 1881 | 670 |
| 1891 | 275 |
| 1901 | 279 |
| 1921 | 381 |
| 1947 | 259 |
| 1954 | 290 |
| 1961 | 251 |
| 1996 | 612 |
| 2001 | 866 |
| 2006 | 1492 |
| 2011 | 1429 |
Further Reading
Huntly 126 years 1854 to 1980: a chronicle of events, Back-To-Huntly 1980 Committee
Marjorie Shaw, Our goodly heritage, history of Huntly Shire, Huntly Shire Council, 1966