Kyneton Shire
Kyneton Shire (1865-1995), an area of 725 sq km, was proclaimed in 1865. It was situated between the Macedon Ranges and the Castlemaine-Taradale gold fields and bisected by the Melbourne to Bendigo railway line (1862) and the Calder Highway. Kyneton, positioned on the highway and the Campaspe River, was the shire's administrative centre. Malmsbury borough council, 10 km north-west of Kyneton, was united with the shire in 1915.
The west of the shire included the upper reaches of the Coliban River, which were dammed at Malmsbury in 1874 for the gold fields (Bendigo etc) water supply. In 1941 the Lauriston reservoir, further upstream on the Coliban, was built. Malmsbury, Lauriston and Trentham (the latter on a Coliban tributary) were also mining towns, and Trentham was also a cool-climate farm area with excellent soil for potato growing. Kyneton, with not quite such a cool climate, was a major grain and livestock source for goldfields towns.
In addition to the main railway line there were also branches from Carlsruhe to Trentham and on to Daylesford (1880-1978), and north from near Malmsbury to Redesdale in an adjoining shire (1891-1954).
The shire's physiography comprised lava plains adjoining the Coliban and Campaspe Rivers and undulating to rugged uplands; in the Baynton area there are basalt-capped rises and exposed granites. All the main towns are found in the lava plains. The uplands, comprising about two thirds of the shire, are mainly north-east of the Calder Highway. In 1946 the shire was described in the Australian blue book: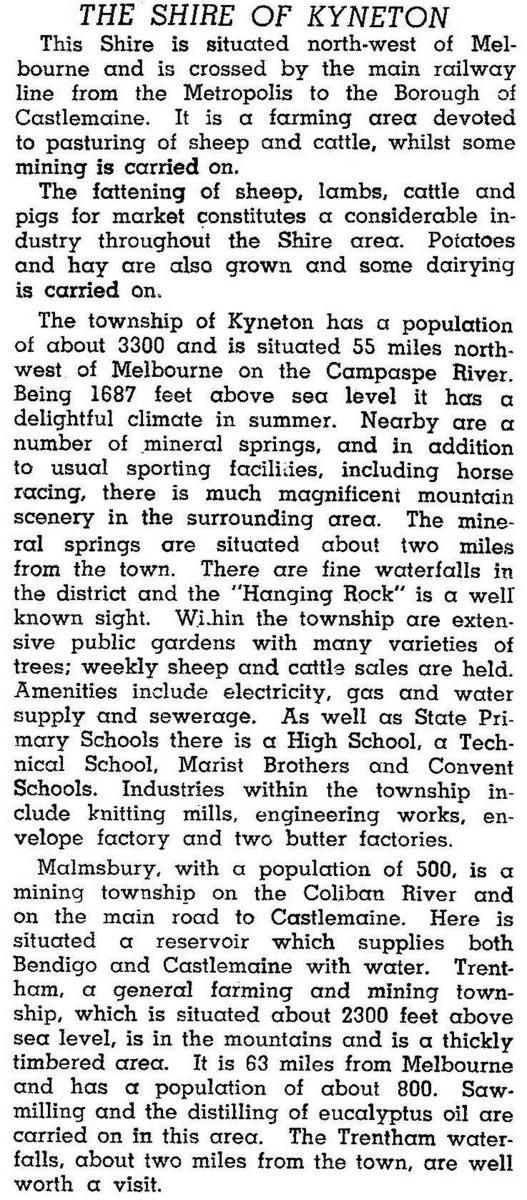 At the time this was written the shire's population was about 6000, and the town of Kyneton held a little over half the shire's population. By 1990 the proportion was a little under half (46%). The reason for the change was less farm recovery and more the taking up of farmlets and rural/residential holdings.
In 1995 most of Kyneton Shire was united with Romsey, Newham and Woodend, and Gisborne Shires to form Macedon Ranges Shire. Kyneton Shire's census populations were:
| census date | population |
| --- | --- |
| 1871 | 8976 |
| 1901 | 8296 |
| 1911 | 6975 |
| 1947 | 6021 |
| 1966 | 5970 |
| 1976 | 6480 |
| 1981 | 7010 |
| 1986 | 7960 |
| 1991 | 8750 |
Further Reading
Rosalie Trower, The Shire of Kyneton: gateway to history, Scoresby, 1988
Baynton, Carlsruhe, Kyneton, Lauriston, Malmsbury, Trentham and Tylden entries