Garfield
Garfield is situated 73 km south-east of central Melbourne and 4 km due east of Bunyip. It is on the Gippsland railway line. Garfield was known as Cannibal Creek from the Aboriginal word for blackfellow, kanni, or possibly because of the killing of dogs by dingos. In 1861 land was surveyed for settlement and a timber industry started in the area. The arrival of railway transport resulted in a boom in the timber industry and the establishment of Cannibal Creek Siding in 1877. The town was renamed in 1887 in honour of the President of the United States, James Garfield, who was assassinated in 1881. The population increased with the drainage of the Koo Wee Rup swamp and the introduction of the Village Settlers' Scheme for the unemployed.
Primary School 2724 was opened near the Cannibal Creek railway station in 1886. The name was changed to Garfield Primary School in 1888 and the school was moved to less swampy ground on several occasions. In 1914, Garfield North School was opened.
Garfield was described in the Australian handbook of 1903: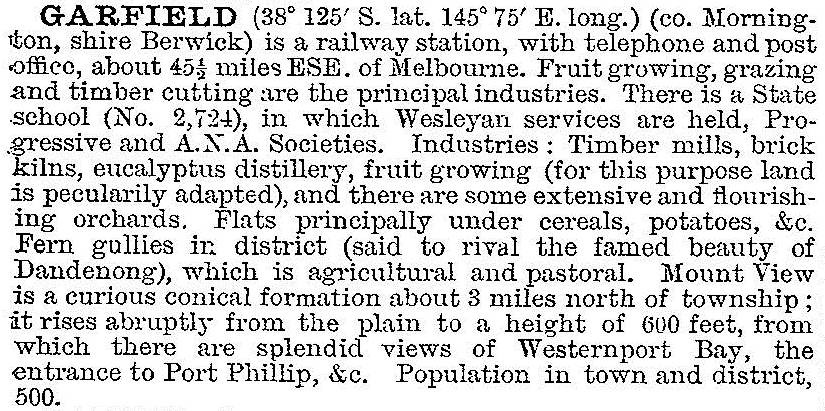 In the 1920s a Boy Scout Troop was formed, a picture theatre opened and electricity was introduced. The theatre stands as probably the most impressive building in the main street, flanked by several shops and the Garfield Hotel. Garfield has Anglican and Uniting churches, a sports reserve with a hall, bowls, tennis and swimming venues, a golf course and a State primary school with 100 pupils in 2014.
Garfield's census populations have been:
| census date | population |
| --- | --- |
| 1891 | 184 |
| 1901 | 124 |
| 1911 | 339 |
| 1921 | 567 |
| 1933 | 397 |
| 1947 | 530 |
| 1954 | 652 |
| 1961 | 796 |
| 1981 | 517 |
| 1991 | 674 |
| 2001 | 699 |
| 2006 | 877 |
| 2011 | 1137 |
Garfield North is an identified district that extends north to the Bunyip State Park. It had a primary school (1914), and the building is used as an outdoor education centre. Its census populations have been:
| census date | population |
| --- | --- |
| 1921 | 69 |
| 1933 | 45 |
| 1947 | 78 |
| 1954 | 86 |
| 1961 | 104 |
| 2011 | 219 |
Further Reading
From bullock tracks to bitumen: a brief history of the Shire of Berwick, Historical Society of Berwick Shire, 1962