Corio Shire
Corio Shire (1864-1993), an area of 745 sq km, extended from Church Street, Hamlyn Heights (Geelong) to Little River, north of Anakie. Its northern and eastern borders followed the river to its mouth on Port Phillip Bay, west of the Werribee sewage-treatment plant. Its western boundary was (in part) the Moorabool River.
Sheep
The shire's land was seen by the explorers Hume and Hovell in 1824. It is thought that the name, Corio, derived from an Aboriginal expression describing sandy cliffs (of Corio Bay) or a small marsupial. The land's suitability for a sheep walk was readily apparent to Tasmanian pastoralists. John Batman's land claim at its western limit reached the Corio area, but it was John Cowie (an associate of Batman) who landed sheep at Cowies Creek in March, 1836. The creek descends from the elevated Lovely Banks and enters Corio Bay at North Geelong, beside the Ford factory. Several well-known pastoralists followed. Some of their homesteads still stand:
Simon Staughton, Exeter homestead (c1870), Anakie
James Austin, Avalon homestead (c1896)
David Coghill, Glenpanyal homestead (1860), North Geelong
George Fairbairn, Pirra homestead (1880), Lara
Robert Muirhead, Osborne House (1858), North Geelong
(For some years Osborne House was the shire's headquarters.)
Towns
Quite early there were rural villages. Fyansford, on a fording place on the Moorabool River, West Geelong, began with an inn in 1843. Little River's Travellers Rest Inn opened in 1841 and Batesford's Moorabool Inn in 1843. Lara, on a creek like the others, was otherwise an exception.
Lara village came about from the building of the railway line from Melbourne to Geelong in 1857, and the shire was headquartered there from 1864 until 1938, when it moved to Osborne House. Lara, on Hovell Creek, was about in the middle of the shire.
Shire and Industries
Corio began as a road district on 3 April 1861 and became a shire on 21 June 1864. The agricultural and pastoral shire's closeness to Geelong brought it into contact with secondary industry. One of the first was a cement works (1889) at Fyansford. Many later industries were established around the railway line and Corio Bay wharves, such as the Corio meat-freezing works (1909), a woollen mill in North Geelong (1925), the large Ford Motor works (1926), fertilizer and phosphate factories (1923, 1925), a distillery (1928) and the International Harvester factory (1939). In the postwar years most of these industries expanded, the Corio quay grew and the Shell oil refinery began operation in 1954. There was a tremendous boost in the shire's population as the new suburbs of Corio, Norlane, Bell Park and Geelong North grew, assisted by estates built by the Victorian Housing Commission. When the shire was on the verge of postwar growth it was described in 1946 in the Australian blue book: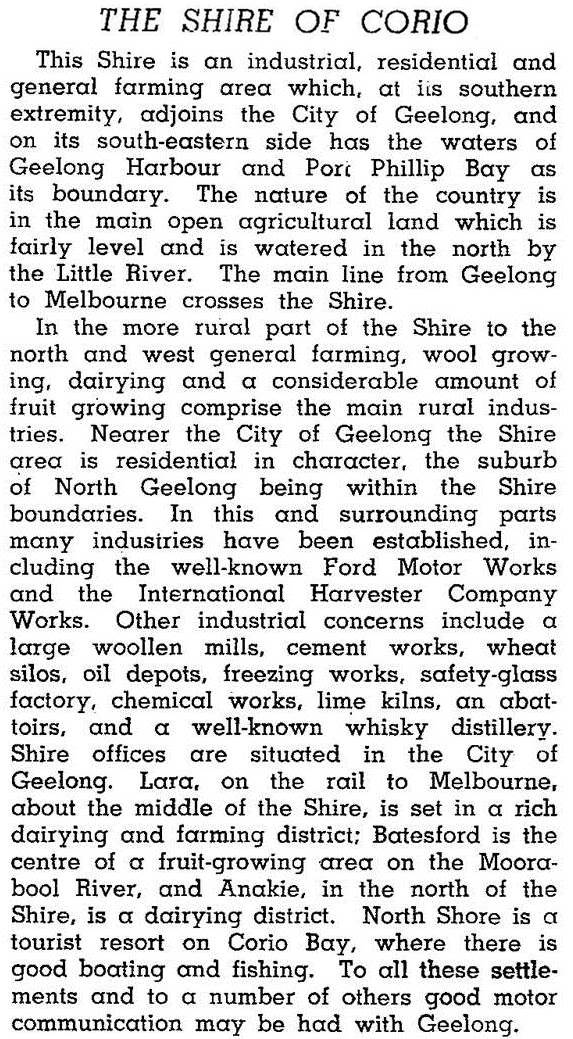 With the exception of the suburb of Corio, the other postwar suburbs were settled by significant numbers of central and southern European migrants. Socio-economically they were working class, but with reasonably secure employment so long as manufacturing industry continued.
The former Corio Shire contributed nearly a third of the population of Greater Geelong when the amalgamated municipality was created in 1994.
On 18 May 1993 Corio Shire was united with Geelong, Geelong West and Newtown cities, Bellarine and South Barwon Shires, and parts of Bannockburn and Barrabool Shires to form Greater Geelong City.
Corio Shire's census populations were:
census date
population
1871
2683
1881
2300
1891
2167
1901
2258
1911
2074
1921
3941
1933
4130
1947
5005
1954
15,808
1961
29,450

*

1966
36,222
1971
40,544
1976
48,230
1981
52,650
1986
59,780

*

1991
57,870
* Urban components were 25,712 and 53,340.
Further Reading
Ian Wynd, So fine a country: a history of the Shire of Corio, Shire of Corio, 1981
Bryan Wardle, Corio Bay, Geelong, 1978
Anakie, Avalon, Batesford, Bell Park, Bell Post Hill, Corio, Hamlyn Heights, Lara, Lovely Banks, Norlane, North Geelong and North Shore entries