Bannockburn Shire
Bannockburn Shire (1864-1994) was formed from the Bannockburn Road District on 30 June 1864, taking its name from the township of Bannockburn. The shire was bounded on the south by the Barwon River and on most of its east by the Sutherland Creek which flows from the Brisbane Ranges. The shire's area was 700 square kilometres, including Meredith Shire which was added in 1915. Its most easterly point adjoined urban Geelong.
In addition to Bannockburn the shire contained Inverleigh, Lethbridge, Meredith and the historic gold town of Steiglitz near the Brisbane Ranges. The Midland and Hamilton Highways were the shire's main roads, and railway lines to Ballarat and Hamilton roughly paralleled those roads. In 1946 the shire was described in the Australian blue book: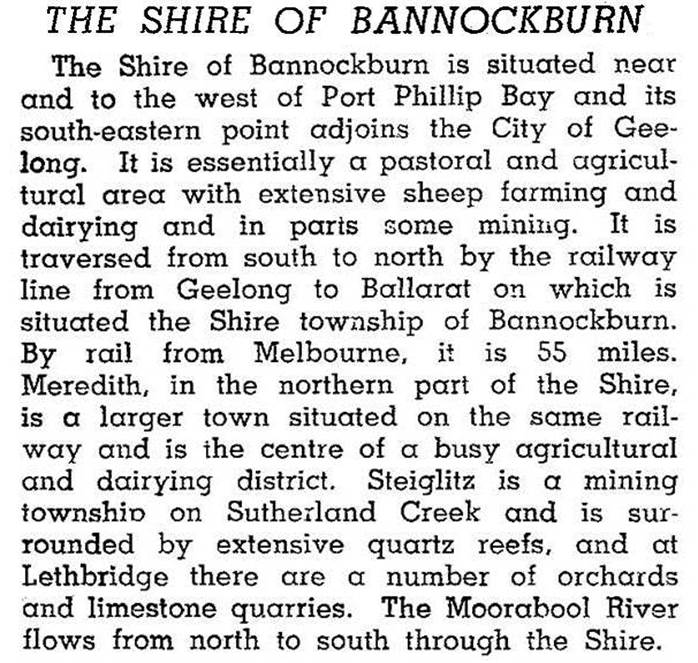 None of the towns had been more than a local district centre, apart from Steiglitz at the height of its goldmining activity. The industry and population were predominantly rural with supporting service activities. In 1994, 75% of the shire was farmland carrying 228,000 sheep and lambs and about 5000 cattle. A little over 4000 hectares were used for cereals.
On 6 May 1994 Bannockburn Shire was united with Leigh Shire and parts of Grenville Shire and Buninyong Shire to form Southern Rural Shire, which was renamed Golden Plains Shire on 1 October 1994.
The shire's populations were:
| Census Date | Population |
| --- | --- |
| 1881 | 2108 |
| 1947 | 2038 |
| 1981 | 2980 |
| 1991 | 4320 |
The population growth during the 1980s was accounted for by rural/residential settlement near the Geelong region.
Further Reading
Alan Willingham, Geelong region historic buildings and objects study, vol 1, Geelong, 1986
Derek Beaurepaire, The stepping stone: a history of the Shire of Bannockburn, Golden Plains Shire Council, 1995
Bannockburn, Gheringhap, Inverleigh, Lethbridge, Maude, Meredith and Steiglitz entries