Winslow
Winslow is a rural village in western Victoria, 17 km north of Warrnambool. It is thought that it was named after Winslow in Buckinghamshire, England.
Farm settlement began during the late 1850s and in 1861 a school was opened. As Winslow was situated on a road between large pastoral properties and Warrnambool, it captured some passing trade. It was also beside the freshwater Lake Cartcarrong (then also known as Lake Phillip). Bailliere's Victorian gazetteer (1865) recorded Winslow as having three hotels. A tannery was opened in 1878 and an active racing club was formed.
The number of hotels fell to one by the early 1900s, and that hotel surrendered its licence in 1912. However, in 1903 Winslow's description in the Australian handbook mentioned several amenities: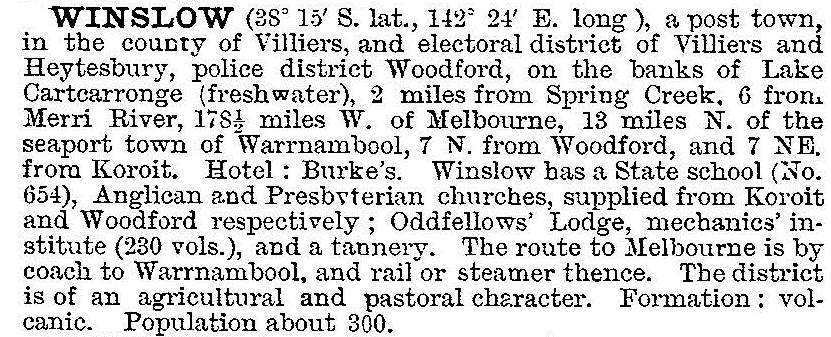 The racing club ceased during the early 1930s, when Winslow village was lessening in importance. The surrounding area, however, had substituted dairying for other pastoral activities, and a consistent population level was maintained until the postwar years. Subsequent population decline led to the closure of the school in 1980.
Winslow has a Catholic church, a public hall, and a recreation reserve. Its census populations have been:
| census date | population |
| --- | --- |
| 1871 | 77 |
| 1901 | 126 |
| 1911 | 299 |
| 1933 | 230 |
| 1961 | 227 |
| 2011 | 298 |
Further Reading
C.E. Sayers, Of many things: a history of Warrnambool shire, Olinda, 1972