Timor and Bowenvale
Timor and Bowenvale are about 8 km north-west of Maryborough and 140 km north-west of Melbourne.
Both are in the vicinity of the junction of the Bet Bet and Timor Creeks, Bowenvale 2 km south-west of the junction and Timor north-east of the junction.
Timor is the earlier of the two, beginning as Coxtown when gold was found there in 1856. (Cox was a butcher and hotel keeper). Coxtown was apparently renamed after Timor Creek.
Within a few years of its discovery nearly all the easily mined gold had been found at Timor, although about 50 Chinese miners continued there. In the early 1860s a Ballarat mining company successfully mined a deeper lead, moving in the direction of Bowenvale, then known as Chinaman's Flat. The Chinaman's Flat school opened in 1864. In the 1870s Chinaman's Flat was named Bowenvale, after Sir George Bowen, Governor of Victoria (1873-79).
There were post offices at Timor (1865) and Chinaman's Flat (1861-95). In 1884 the Timor post office was renamed Bowenvale, and kept that named until closed in 1981. School names were the opposite. An elaborate government school was opened at Timor in 1873 and had an enrolment of nearly 500 by 1879, Chinaman's Flat school was a small place, and there has never been a Bowenvale government school.
The Bowenvale-Timor area met at the junction of the rich Chinaman's Flat and Alma-Timor gold leads. The most prominent gold relic is the Duke and Timor Gold Mining Company's mine house (1869-96), the most successful deep lead mine which produced a quarter of the gold taken from the Maryborough district. In 1903 Timor and Bowenvale were described in the Australian handbook: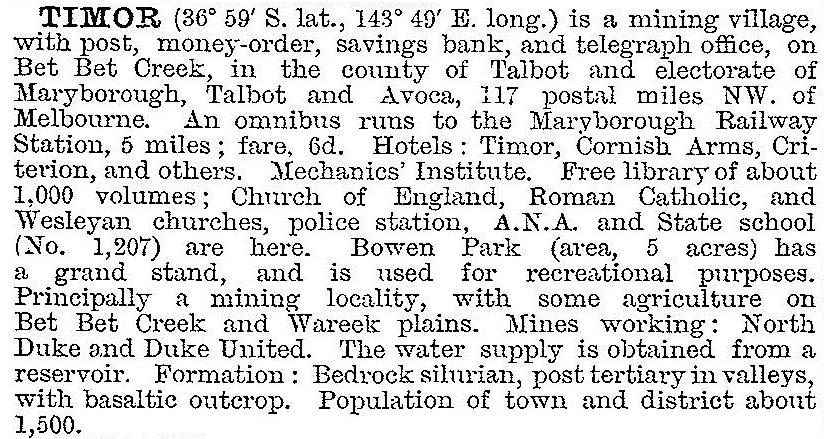 A cyanide works for gold continued for some years, and farming along the Bet Bet Creek stemmed the loss of population as mining declined.
Bowenvale has tennis courts and a hall. Timor has the primary school (33 pupils in 2014). Its last hotel closed in 1963 and its general store closed in 1997.
Census populations have been:
census date
population
 
Timor
Bowenvale
1881
696*
626
1891
412
580
 
Timor and Bowenvale
1911
841
1933
244
1961
134
*including Chinaman's Flat gold workings
Timor West's population not included in above figures
Further Reading
James Flett, Maryborough, Victoria, goldfields history, 1975