Phillip Island
Phillip Island, one of two main islands in Western Port Bay, has its main town a distance of 75 km south-east of central Melbourne. The island was one of the earliest parts of the Victorian coastline to come under European exploration. It is about 22 km from west to east, 9 km from north to south at its widest point, and has an area of 101 sq km.
Mapping
George Bass mapped part of Western Port Bay and explored the western end of the island in January 1798. In March 1801 Lieutenant James Grant surveyed and mapped the island. Next year, when Grant's voyage was mapped in Sydney, the New South Wales' Governor King named the island Phillip Island, presumably as a compliment to the first Governor, Arthur Phillip. There were later explorations by French expeditions in 1802 (Baudin) and in 1826 (D'Urville). Sealers' huts were seen on the island. French interest provoked Sydney authorities to formally taken possession of Phillip Island in December 1826 by constructing a fort near Rhyll. In a little over a week the temporary settlement was moved to the mainland, at Corinella, 15 km north east of Rhyll.
Settlement
Pastoral occupation of Phillip Island was by the McHaffie brothers in 1842, at the western end. They found a mosaic of vegetation, with grassed patches, trees and shrubby thickets. The brothers carried out periodic burnings to clean out shrub growth and encourage green pick, but they were also animal acclimatizers who introduced deer and rabbits. Farm selections started in 1868. Within a year or two chicory growing became a staple industry; grubs and pests found chicory leaves inedible or indigestible. The first chicory kiln was built in 1870. The kilns absorbed tons of fire wood, beginning the denudation of the island. Farming was hard work, and both chicory growing and the island's population declined in the late 1870s. Chicory really only boomed during the wartime shortages. Sheep and cattle grazing took over the less fertile parts of the island.
Topography
Phillip Island is largely basaltic, overlain by sandy or clay soils. Valleys are shallow. Parts of the island are joined to outlying points (Cape Woolamai, Point Grant at the western end) by sand deposition. On the south there are weather beaten cliffs, and the sheltered northern shore includes dunes, tidal flats and swamps. Three villages emerged on the north of the island: Cowes (1870), Rhyll (c1890) and Ventor (c1915). Newhaven (1890) is at the eastern end, separated from the mainland by an entrance known as The Narrows.
Closer settlement
Closer settlement farms started on Phillip Island in 1911. Access to the mainland was by a steamer from Stony Point on the western side of the bay. Crossing The Narrows by punt could be hazardous because of sudden tide movements. By 1936 about 40% of the island was not covered by natural vegetation.
In 1940 The Narrows were bridged. In 1952 postwar land subdivisions started for weekend holiday makers. Before 1955 there were 2695 house lots on Phillip Island; between 1955 and 1966 another 5350 were added. The number of ratepayers rose from 2000 to 9000 during 1959-61. By 1974 80% of the island was not covered by natural vegetation. In some of the housing estates it was a toss up between the vegetation and the weekend houses for visual dreariness.
Fauna
The southern and western coasts of Phillip Island are breeding grounds for mutton birds and penguins. Seals breed at the western tip of the island, water birds inhabit swamps and tidal flats around Rhyll and Newhaven, and koalas (introduced 1878) do well in a predator-free environment in remnant manna gum reserves. The Penguin Parade at the western end of the island began as a tourist attraction in the 1920s. (A housing estate, Summerland, 330 lots, was subdivided near it in 1927). In 1955 human intrusion in the penguin rookeries was banned, and in 1988 Bicentennial millions were spent on boardwalks and facilities for an internationally renowned tourist attraction. In 2010 the State Government completed acquisition of the Summerland estate.
There are also flora and fauna reserves at Seal Rocks, Cape Woolamai, Rhyll wetlands and on Churchill Island. This small island, joined at Newhaven by a bridge, was briefly settled by Grant in 1801 when he planted a food garden. Churchill Island, Cape Woolamai and Seal Rocks are heritage listed.
Motor racing
In contrast to the islands' natural attractions, motor racing enthusiasts first staged motorcycle races there in 1928 and Grand Prix car races in 1931. In 1952 the Phillip Island Auto Racing Club began building a sealed circuit and the first public race on the circuit was in 1956. In 1989 the first Australian Motorcycle Grand Prix was held there and the circuit continues to host that and other motorcycle events along with selected car events.
Local government
A Phillip Island road board was formed in 1871. It was absorbed by Phillip Island and Woolamai Shire in 1874. The Woolamai part extended miles into Gippsland, including the future sites of Korumburra and Wonthaggi. It was trimmed back to a more manageable size by parts being annexed to Buln Buln Shire in 1882 and severed in 1898 to form Poowong and Jeetho Shire. Wonthaggi was severed in 1911. Difficulties remained with the unbridged The Narrows. Council meetings moved between Cowes, San Remo, Kilcunda and Dalyston. In 1928 the difficulties were resolved by the Woolamai (mainland) part becoming Bass Shire and Phillip Island having its own shire council. Phillip Island shire was described in the 1946 Australian blue book: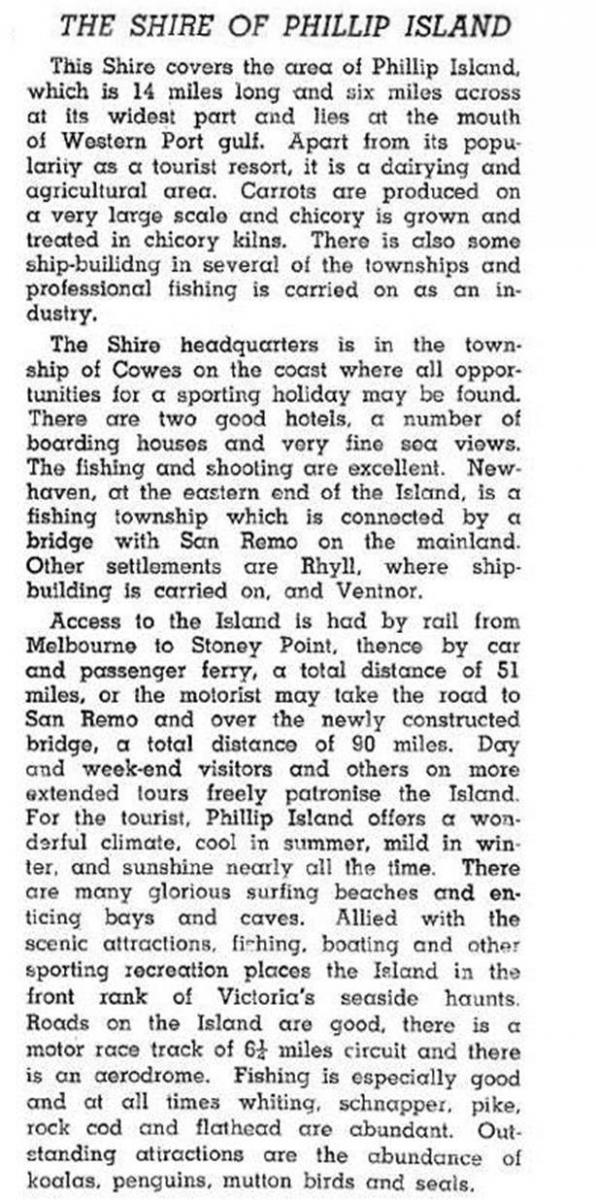 On 2 December 1994 Phillip Island and Bass Shires, Wonthaggi borough, part of Woorayl Shire (Inverloch) and part of Korumburra Shire were united to form Bass Coast Shire.
Phillip Island's census populations have been:
| census date | population |
| --- | --- |
| 1871 | 547 |
| 1881 | 302 |
| 1891 | 337 |
| 1901 | 418 |
| 1911 | 458 |
| 1921 | 858 |
| 1933 | 1000 |
| 1947 | 1108 |
| 1954 | 1231 |
| 1961 | 1241 |
| 1966 | 1408 |
| 1971 | 1711 |
| 1976 | 2340 |
| 1981 | 3070 |
| 1986 | 4350 |
| 1991 | 5270 |
| 2011 | 9406 |
In 1994 agriculture occupied 47% of Phillip Island's area. There were 3615 meat cattle, 718 dairy cattle and 15,710 sheep and lambs.
At the 2011 census, the median age of residents was 46 years (Australia, 37 years). On census night 63.9% of dwellings were unoccupied, a continuing testament to Phillip Island's attraction for weekend holiday-makers. In 2014 thousands of residents began petitioning for Phillip Island to break away from Bass Coast Shire.
Further Reading
J.W. Gliddon, Phillip Island in picture and story, Cowes, 1958
Joseph White, One hundred years of history, (Shires), 1974
Jean Edgecombe, Phillip Island and Western Port, 1989
George Seddon, Phillip Island: capability, conflict and compromise, University of Melbourne, 1975
June Cutter, Guest houses on Phillip Island: a history, 1987
Linda Cuttriss et al, 500 million years on Phillip Island, Wonthaggi, 1995
Phillip Island: a report by the Town and Country Planning Board, Victoria, Melbourne, 1971
Cape Woolamai, Cowes, Newhaven, Rhyll, and Ventnor entries