Nhill
Nhill is a rural town in the north of the Wimmera region, western Victoria. It is 60 km east of the South Australian border, 340 km north-west of Melbourne, and is on the Western Highway and the railway from Melbourne to Adelaide.
In 1844 Dugald Macpherson and George Belcher came upon a large swamp or lagoon which they recorded the Aborigines called Nyell. It is thought that the name described mist or spirits over water, although red clay has been another suggestion. In any event the place was rendered as the Nhill swamp, and the name was applied to the pastoral run taken up in 1848. During the 1850s the gold escort route from the Victorian diggings to Adelaide passed within 6 km of Nhill, and the homestead became a postal receiving and dispatch place.
From about 1875 onwards settlers from the lower Wimmera and South Australia took up farm selections in the district, and by 1880 there were a store and a hotel at the future site of Nhill. A school was opened in 1881 in a Bible Christian church. Other early institutions included a hospital (1882), a racing club (1883), an agricultural and pastoral society (1884) and an Anglican church. The Nhill Free Press began publication in 1882 and continues as the district's newspaper. A second newspaper, the Nhill and Tatiara Mail and West Wimmera Advertiser, moved from Border Town to Nhill in 1886. Although it lasted for only 14 years, its editor, Frank Shann, introduced literary and historic journalism to its pages. His sons, Edward and Frank, were respectively a foremost economic historian and a highly respected school principal. It is thought that Shann senior encouraged the lyric poets, John Shaw Neilson and his father, to persist with their writing. He also promoted the Nhill Literary and Debating Society.
In 1887 the railway was extended from Dimboola to Serviceton, almost immediately provoking a flurry of development. A large flour mill was opened in 1889, and the Lowan shire hall was built in 1888. (Lowan shire had contained the Dimboola district until 1885. The shire's headquarters moved from Dimboola to the Nhill mechanics' institute in 1883, evidence of Nhill's growing importance, and the change to Lowan's boundaries in 1885 made Nhill the obvious choice for the administrative centre, despite Kaniva's discontent until it gained its own shire in 1891, also by severance from Lowan.) During the period between the railway and 1890s depression churches were also built, sporting clubs were started or strengthened and the Nhill Water Trust (1891) supplied town water from wells and bores. The depression, however, was a setback and it was followed by a drought during 1896-97.
As Nhill recovered during the start of the next century it was described in the Australian handbook in 1903: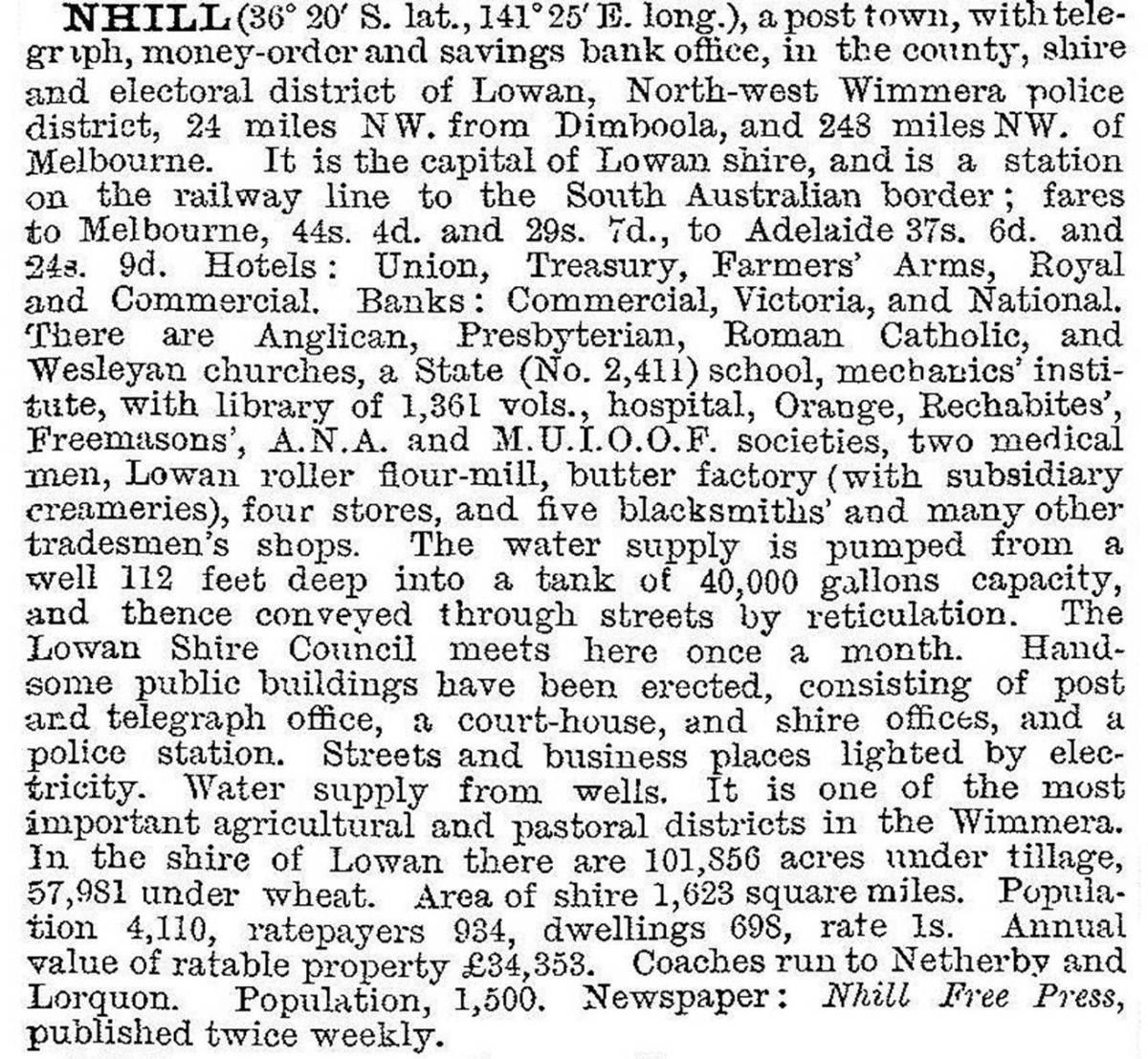 The opening decade coincided with the introduction of improved wheat strains, and seasons were mostly good. Sheep brought good prices, up to ten times the depression prices, and the annual October agricultural shows were successful.
In 1912 the primary school was elevated to a higher elementary school, which was incorporated into the high school in 1945.
Nhill had implement factories and foundries servicing the local grain growers, and it has retained some local industries. Industrialisation extended to a plastic-goods plant set up under a State decentralisation scheme in 1947. A later firm has been Sherwell's silos and bins (1960), which began with the proprietor copying the shape of the local water-storage tower for a mobile grain bin. A large duck-processing factory also opened in the 1960s. In 1961 the Nhill Historical Society was established, and 11 years later it moved the slab hut where Shaw Neilson had been born at Penola, South Australia, to a park near the Nhill Lake.
During 1950 to 1970 the population of Nhill was about 2200 people. During the next three decades it declined by about 300, less precipitate than other towns in the Wimmera and Mallee areas. It is the northern Wimmera's regional centre and the administrative centre of Hindmarsh shire. It is also about half way between Melbourne and Adelaide, a convenient motel stop-over for car travellers in the early 1960s.
Nhill has a substantial shopping area, six churches, a memorial hall (1940), swimming, horse-racing and other sporting facilities, a showground, four motels, a hotel, and a caravan park. There are also Catholic primary, Lutheran primary and State P-12 schools, a hospital and aged-persons' accommodation. Nhill college had 349 pupils in 2014.
In addition to Goldsworthy Park near the lake there are Davis Park and an airfield which has the Wimmera Aero Club (1946). A local attraction is a bronze memorial to the Clydesdale farm draught horse, constructed in the main street in 1968. The popular and successful Australian film Road to Nhill (1997) is less local. It was filmed in Pyramid Hill, 220 km east of Nhill. The film's director, Sue Brooks, was born in Pyramid Hill.
Nhill's census populations have been:
census date
population
 
Nhill
Nhill and environs
1881
111
 
1891
1102
 
1901
1065
 
1911
1528
 
1921
1347
 
1933
1926
 
1947
1974
 
1954
2208
 
1966
2251
 
1976
2124
 
1986
2028
 
1996
1890
 
2006
1915
2550
2011
1872
2278
At the 2011 census, religious affiliations were markedly Protestant:
Religion

% of population

 
Nhill
Australia
Uniting church
26.8
5.0
Lutheran church
15.6
1.2
At the 2011 census, farming accounted for 22.3% of employment, including 7.2% for poultry farming.
New council offices for the Hindmarsh Shire were officially opened in Nhill in 2014. More than 100 Karen refugees from the Thai-Myanmar border moved into the community from refugees camps and have found a home in the farming town, many working at the duck meat processing factory.
Further Reading
Les Blake, The land of Lowan: 100 years in Nhill and West Wimmera, Nhill, 1976
J. Edward Robertson, The progress of Nhill and district, the author, c1912
Back to Nhill and district official souvenir, Nhill, 2009
Nhill and district past and present official souvenir, Nhill, 1964