Inverleigh
Inverleigh is a rural township at the junction of the Barwon and Leigh Rivers, and is reached by railway from Geelong or by the Hamilton Highway. It is 30 km east of Geelong.
The Hamilton Highway was originally the Lower Leigh Road, an early track to Victoria's Western District. In 1843 William Lawson built an inn near a ford across the Barwon River. Not only was the inn conveniently near a river crossing, the land thereabouts was flood prone, and the silt left by the waters was ideal for farming. Settlers had orchards and dairying. Lawson built a new hotel, named the Horseshoe Inn, during 1851-53, and a township was proclaimed in 1853. A bridge over the Barwon was built in 1855.
The name came from the Leigh River, named by the colonial surveyor, John Helder Wedge, in 1835. Inverleigh is thought to mean 'mouth of' or 'against' the Leigh River.
Free Church, Anglican and Catholic schools were opened between 1858 and 1860, and the first of them was incorporated in the government school (1873). A mechanics' institute was opened in 1866. The district was occupied by small farm holdings near the town and pastoral properties further away. In 1903 the Australian handbook described Inverleigh: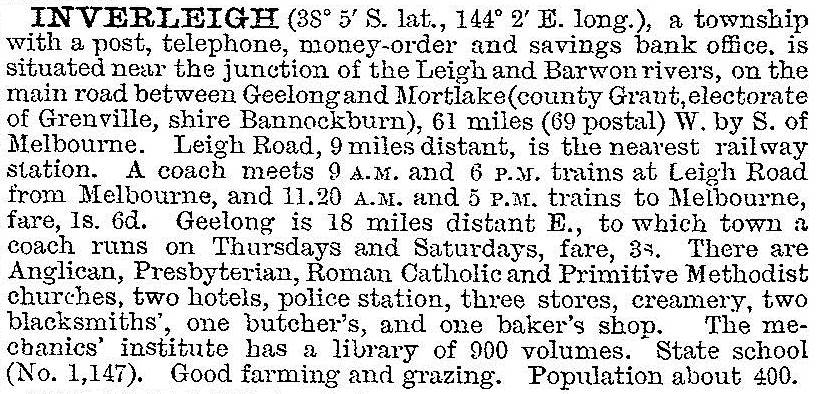 Until 1913 railways west of Geelong were via Ballarat and via Colac. An intermediate line from Gheringhap to near Ararat, via Inverleigh was opened in 1913. It has since become the major freight line, carrying more than can be managed over the steep grades to Ballarat, and is part of the standard gauge line to Adelaide.
Inverleigh maintained a comparatively consistent population level during the years after World War II, with about a 30% growth between 1971 and 1996. The town is compact, as the floodprone land near the rivers (on three sides of the town) is suited only to rural or rural/residential use.
Inverleigh has a large bluestone hotel (the successor to the Horseshoe Inn), mechanics' institute hall, a golf club, two recreation reserves, sports club facilities, four churches, and the original bluestone school (1865) much added to. The Anglican, Catholic and Presbyterian churches, along with the school, form an attractive precinct along the tree-lined Hamilton Highway. The school is on the Victorian Heritage Register, along with a rare cast-iron house (c1850). The school had 147 pupils in 2014.
Inverleigh's census populations have been:
| Census Date | Population |
| --- | --- |
| 1861 | 116 |
| 1881 | 364 |
| 1911 | 526 |
| 1971 | 202 |
| 1996 | 283 |
| 2006 | 562 |
| 2011 | 1182* |
*and environs
Further Reading
Derek Beaurepaire, The stepping stone: a history of the Shire of Bannockburn, Golden Plains Shire Council, 1995