Heidelberg
The suburb of Heidelberg, 2 km north-east of central Melbourne, began as a village named Waringal a few years after the foundation of Melbourne. Later, the township's name was given to the surrounding municipality which extended from Fairfield to Doncaster.
Village
In September 1838, Port Phillip's first sale of farm lands occurred in the Heidelberg district, and provision was made for a village immediately west of the Yarra River in the vicinity of Banksia and Darebin Streets. Named Waringal (thought to derive from an Aboriginal word meaning eagle's nest), the village's original elements are apparent in St John's Anglican church (1849) in Burgundy Street, the Old England Hotel (1848) in Lower Heidelberg Road, the old court house in Jika Street, and the sites of the Catholic church (1859) and the primary school.
Immediately north-east of the Waringal village Portion 6 of the 1838 land sale was owned by Richard (Continental) Browne. He named it Heidelberg, probably after the town in Germany, and popularised the name when he subdivided and sold the land in 1839-40. One of the four subdivided lots was acquired by Joseph Hawdon who built his Gothic Banyule mansion (1846) in Buckingham Drive overlooking the Yarra Valley's Banyule flats.
Heidelberg was reached by a track from Melbourne, crossing the Merri and Darebin Creeks and wending on past several prosperous farms. In 1841 local landowners formed the Heidelberg Road Trust for the road's upkeep. It was Port Phillip's first local government body.
Heidelberg was well beyond Melbourne's urban fringe and remained a backwater. The road district was replaced by Heidelberg shire in 1871, extending eastwards from Rathmines Street, Fairfield and occupying all the area lying between the Darebin Creek, the Yarra River and the Plenty River. It reached northwards to the Diamond Creek village. In 1873 the township was described in the Australian handbook: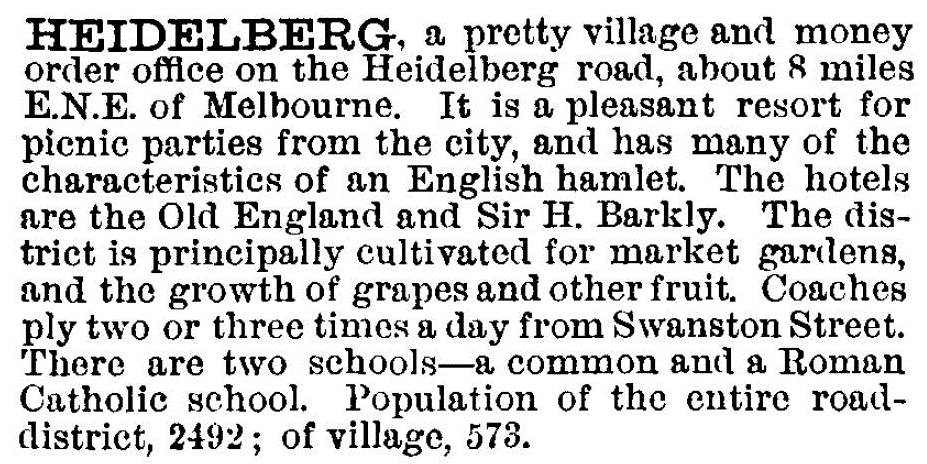 Urban fringe
During the 1880s there was a spate of railway development, and a line from Clifton Hill to Heidelberg was opened in 1888. This stimulated the settlement of Fairfield, Alphington and Ivanhoe as well as Heidelberg, although the railway's access to central Melbourne was a circuitous inner circle route via North Carlton to Spencer Street. In 1901 a direct link to Melbourne was provided when the line from Clifton Hill via Collingwood was opened. The shire's population had increased and the Australian handbook's description in 1903 was correspondingly greater: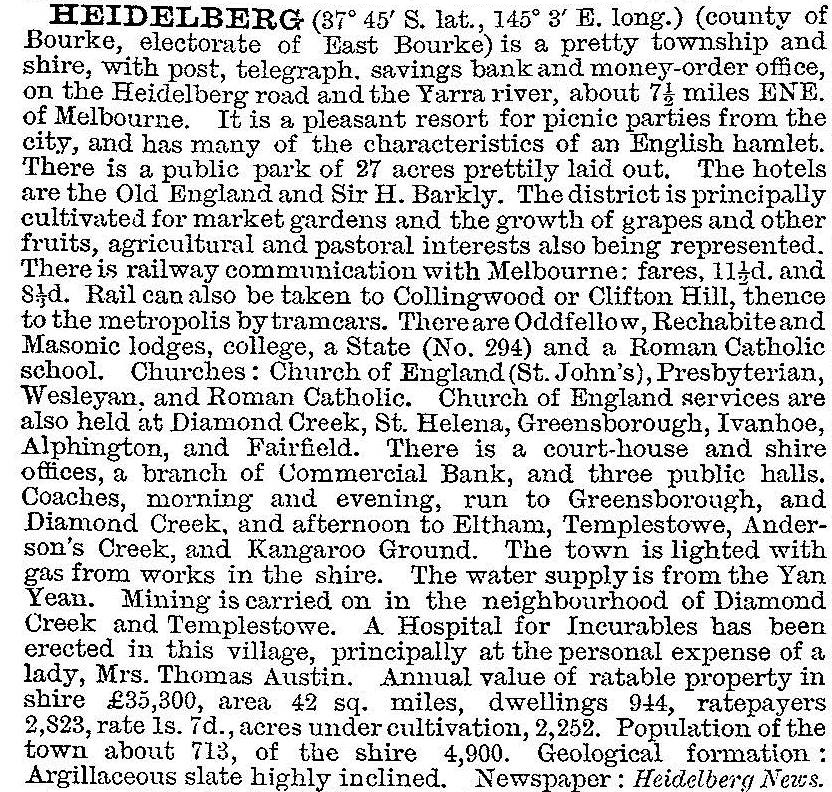 Within a few years Ivanhoe had overtaken Heidelberg, being described as a suburban township in contrast to Heidelberg's dairying township (Victorian municipal directory, 1912). Beyond walking distance of the railway stations, the landscape was dotted with rural estates. Prominent examples were found in Eaglemont and at Charterisville near Burke Road and the Yarra valley. Both places were used by 'Heidelberg School' artists for plein air painting who, before then, had painted at Box Hill. The Yarra valley views were artistically impressive, and became a major selling point for interwar real estate sales. The 1933 census recorded 6423 dwellings in the shire, a fourfold increase since 1911. Most dwellings were free standing on large blocks of land, embracing Queen Anne, Californian bungalow and Mediterranean styles. Notable eclectic styles were Desbrowe Annear's designs (Mount Eagle) and Burley Griffin's knitlock houses. In 1936-39 A.V. Jennings built two early housing estates: Beaumont, in Melbourne Road behind the town hall and Beauview in East Ivanhoe.
City
Urbanisation raised Heidelberg from a shire to a city in 1934, and in 1936-37 the Council built a modernist town hall and offices just beyond the Ivanhoe shopping strip in Upper Heidelberg Road. The city was described in the 1946 Australian blue book: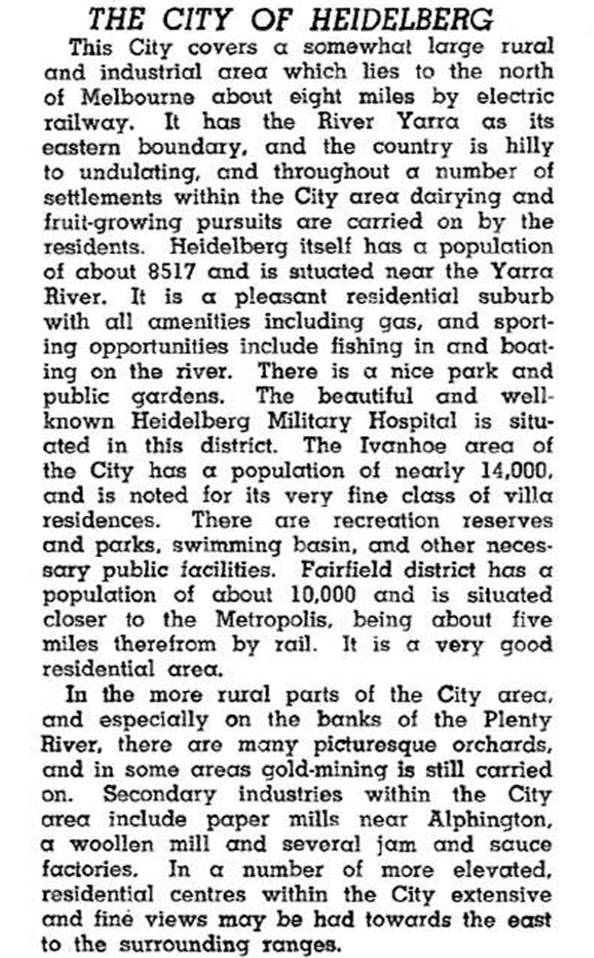 City status, however, did not alter the fact that the municipality had only one public transport line about 4 km from some places on its riverside boundaries. Ivanhoe West and Heidelberg West were dairying places until resumed by the Housing Commission in the early 1950s, and the latter estate was opened to accommodate athletes for the 1956 Olympic Games.
Municipal severances
In 1964 the area north of LaTrobe University and Yallambie was severed and became Diamond Valley shire. Two years before, the area west of the Darebin Creek was transferred to Northcote city.
Modern suburbs
By the 1970s Heidelberg city's residential development was nearly complete except for parts of Viewbank (Rosanna East) and Yallambie. Shopping areas were mostly of the typical strip kind, but the small free standing centre in Bell Street, Heidelberg West (1956) is probably the first American style drive in centre in Australia. It was built to a Housing Commission design.
State Secondary education
The population of the Heidelberg municipality more than doubled between the end of World War II and 1960, mainly in Heidelberg West and Rosanna. Four secondary schools opened during 1955-58, and Rosanna East High opened in 1970. They were followed by closures and mergers in the 2000s:
| School | Location | Later History |
| --- | --- | --- |
| Heidelberg Tech (1955) | Bell Street/Waterdale Road | TAFE (1994) |
| Heidelberg High (1956) | Banksia Street | LaTrobe College |
| Heidelberg Girls (1959) | Waterdale/Dougharty Roads | Closed. Merged with LaTrobe College |
| Rosanna High (1958) | Waterdale Road/Crissane Street | Closed |
| Banyule High (1961) | Buckingham Drive | Closed. Merged with Viewbank |
LaTrobe College moved to a site in Waiora Road, Bundoora, in 2012 where Macleod Technical school opened in 1961.
Heidelberg is a mature suburb, intersected by Bell/Banksia Streets, Lower Heidelberg Road and the railway line. The Austin Hospital is its dominant building. Its eastern flank is the Yarra Flats and Warringal wetlands. Since 2012 the hospital has housed the Olivia Newton-John Cancer Centre. The suburb encloses all of the old Waringal village, and a drive-in Waringal shopping centre (1987) is next to the State primary school (370 pupils, 2014). Shops continue westwards along Burgundy Street to the railway station. There is a Catholic primary school, but State secondary education is further afield in Viewbank, Heidelberg West and Heidelberg Heights.
On 15 December 1994 most of Heidelberg city was united with most of Diamond Valley shire and part of Eltham shire to form Banyule city.
The census populations of Heidelberg town/suburb have been:
| census date | population |
| --- | --- |
| 1871 | 573 |
| 1881 | 457 |
| 1891 | 793 |
| 1901 | 1011 |
| 1911 | 2478 |
| 1933 | 4405 |
| 2001 | 4727 |
| 2006 | 5429* |
| 2011 | 5714* |
* Census area enlarged, Beverley Road and Buckingham Drive area
The municipality's census populations were:
| area | census date | population |
| --- | --- | --- |
| Shire | 1871 | 1300 |
|   | 1891 | 4413 |
|   | 1901 | 5008 |
|   | 1911 | 8610 |
|   | 1921 | 10,616 |
| City | 1933 | 27,788 |
|   | 1947 | 38,311 |
|   | 1954 | 60,007 |
|   | 1961 | 86,430 |
| Part Northcote, Diamond Valley shire severed | 1971 | 68,013 |
|   | 1976 | 67,600 |
|   | 1986 | 63,900 |
|   | 1991 | 63,300 |
Further Reading
Graeme Butler, Heidelberg conservation study, part 1, City of Heidelberg, 1985
Donald S. Garden, Heidelberg: the land and its people 1838-1900, Carlton, 1972
Heidelberg since 1836: a pictorial history, Heidelberg Historical Society, 1971
Helen Topliss, The artists' campus: plein air painting in Melbourne 1885-1898, Clayton North, 1984
Bellfield, Eaglemont, Heidelberg, Heidelberg Heights, Heidelberg West, Ivanhoe, Ivanhoe East, Rosanna, Viewbank and Yallambie entries