Grantville
The township of Grantville is situated on the south-eastern shore of Western Port Bay, about 85 km south-east of Melbourne.
From 1838 the area was part of Westaway pastoral run but was undeveloped until the early 1870s when timber cutters established mills in the heavily wooded hills inland. A horsedrawn tramway carried sawn timber to a jetty for loading onto coastal vessels. A town was surveyed in 1870 but several years elapsed before much land was sold. The name Grantville may honour Lieutenant James Grant who explored Western Port Bay in 1801 or perhaps James McPherson Grant, a parliamentarian who was President of the Board of Land and Works in 1871-72. A store with post office, a hotel and a school were established, and by 1888 the Victorian municipal directory recorded a school and a hotel, with most inhabitants employed in the timber trade. The population was estimated at 70.
A road had been surveyed from Melbourne into South Gippsland, but because of its poor condition the settlers of the district sent their produce through the seaport of Grantville. The town progressed, boasting stores, hotels, butcher, blacksmith, bootmaker, bank, saleyards, police station and cemetery. An Agricultural Show Society was formed in 1884 and a Racing Club in 1898. A mechanics' institute hall was constructed in 1888 and a newspaper, the Western Port Times, was printed and published at Grantville for a period from 1898. The Australian handbook described Grantville in 1903: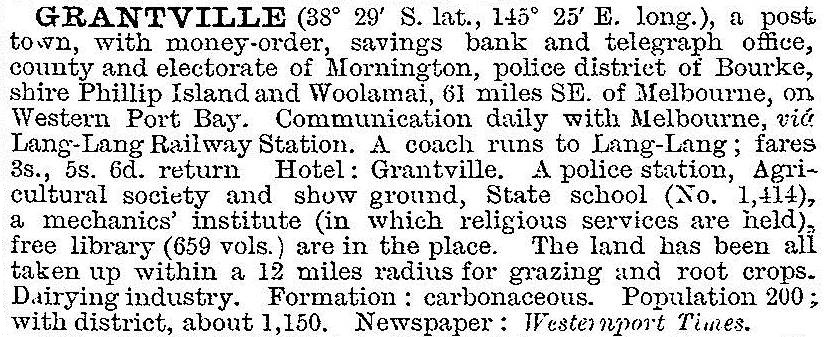 In 1890 the railway from Melbourne into South Gippsland was constructed well to the east of Grantville and gradually drew commerce away from the port. The timber trade also decreased and the township of Grantville slowly declined. Businesses closed and houses were moved away. The saleyards finally closed in the 1920s. By the 1940s the mechanics' institute hall was in disrepair.
However, from the 1950s Grantville began to grow again, with holiday and weekender houses being constructed. By 1970, there were seven new housing estates. The hall was renovated in 1955, with later additions, and a new school was built in 1968. Donmix, a ready mix concrete business, began operations in 1958 from a sand pit at Grantville and a drive-in theatre was in operation in the 1970s.
A number of businesses, including a leisure park, take advantage of the town's location on the Bass Highway. The school closed and with a residents' median age of 50 years (2006) the town is increasingly a place for retirees. There is a general store, a CFA station, a recreation reserve, a multipurpose hall, a caravan park and a jetty. The foreshore is an intertidal coastal reserve. A free range egg farm of 70 hectares operates in Grantville.
Immediately north of Grantville there is The Gurdies which has the district's cemetery and a nature conservation reserve. At the southern end of Grantville there was Queensferry, a timber industry town with a jetty. Its location is marked by Queensferry Road. Queensferry was described in the 1903 Australian handbook: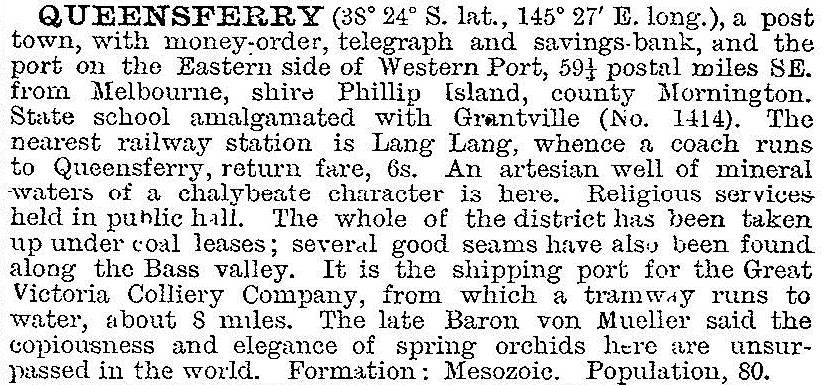 Grantville's census populations have been:
| census date | population |
| --- | --- |
| 1891 | 142 |
| 1911 | 133 |
| 1921 | 122 |
| 1933 | 101 |
| 1947 | 105 |
| 1954 | 146 |
| 2001 | 396 |
| 2006 | 456 |
| 2011 | 506 |
The median age of residents at the 2011 census was 54 years (Australia 37 years). On census night in 2011 nearly 80% of houses were occupied, indicating that Grantville is a retirees' rather than a weekenders' town.