Eltham and Eltham Shire
Eltham, an increasingly residential township, is 20 km north-east of central Melbourne. It was surveyed as a village in 1840, near the junction of the Diamond Creek and the Yarra River, coinciding approximately with the track marked by the Ryries to provide access from their property near Yarra Glen to the Heidelberg village. The name probably derives from one of several Elthams in England.
In 1857 town allotments were sold in both the surveyed site and a little northwards. The latter was promoted by a speculator as Little Eltham and it sold better and influenced the ultimate town centre. During the period of the Caledonia Diggings (centred on St Andrews and Panton Hill), Eltham's population grew as the town became a food, produce and supply centre for the mining communities (1860s to 1880s).
Village
A post office was opened in 1854 and a flour mill, brewery, brick works and tannery later in the decade. There was also two churches, a primary school (1856), a police station and a court house. The police station and court house (1860) are heritage listed. Eltham also became a stopping place en route to the Woods Point Diggings. In the 1880s agitation began for extension of the railway from Heidelberg, to serve Eltham and districts further afield such as Kangaroo Ground. The extension came to Eltham in 1902, but never to Kangaroo Ground. In 1903 the Australian handbook described Eltham:
The railway brought excursionists, many to pick wattle during its flowering season. It also centered the business area round the railway station. Eltham was a picturesque village with the advantage of proximity to metropolitan Melbourne as well as to attractive countryside with farms and uncleared stringybark forest. It was described in 1940 as 'residential, horticultural, dairying and grazing ... a beauty sport for artists and picnickers'. Eltham had three recreation reserves, a State higher elementary school (1926), swimming baths, tennis courts and a fire brigade. Bushfires were a frequent danger.
Arts
The artist Justus Jorgensen built the notable Montsalvat group of buildings, several in adobe and rammed earth during the 1940s, influencing a taste for mud brick house construction. Several local architects later specialised in that form of construction.
Writers and artists resided in Eltham – Mervyn Skipper, Alan Marshall, Robert Close (writers), Walter Withers, William Frater and Neil Douglas were notable members of the artistic community. Jorgensen behaved as a patriarch and women were subdued, but Betty Roland (author) and Sonia Skipper (painter and sculptor) have published memoirs of their unsubdued creativity. Tim Burstall's early film making began in Eltham, and the architect Alistair Knox strongly influenced house building emphasising landscape and natural building materials. The community's affection for the environment was manifested in the 1980s when action was taken to protect the most viable of only a few colonies of a small brightly coloured butterfly, which came to be known as the Eltham Copper Butterfly. Residential incursion threatened most colonies, and habitat reserves were created in west Eltham.
Eltham has several linear and local reserves, along with several parks and ovals south of the township. It has a main street and drive-in shopping facilities, a craft market, two State primary schools, a Catholic primary school (1928), a high school (1950) and the Catholic Ladies College (1971). Eltham College is in the neighbouring township of Research.
Shire
Eltham was also a shire from 26 September 1856, until 15 December 1994. The township was in the south-east corner of a shire that extended northwards to Kinglake and eastwards beyond Yarra Glen. Its area was 560 sq km. In 1912 the eastern-most 41 sq km were severed and joined to Healesville Shire. Eltham Shire was described in the Australian blue book, 1946: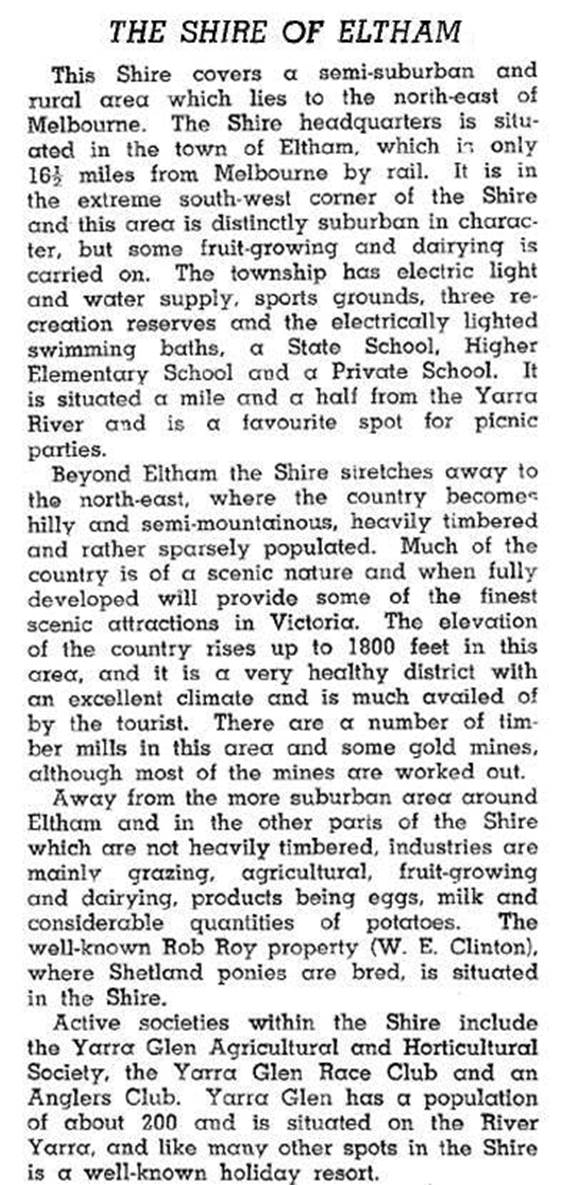 On 1 October 1958, the East Riding of 218 sq km covering Dixons Creek, Yarra Glen, and much of Christmas Hills was annexed to Healesville Shire. On the west side of Diamond Creek the locality of Eltham North emerged in 1925 with the opening of a primary school. It was in Diamond Valley Shire until municipal amalgamations. In 1994 when municipal amalgamations took place, most of Eltham Shire was united with parts of Diamond Valley Shire and Whittlesea city to form Nillumbik Shire. Montmorency and Lower Plenty went into Banyule city.
Eltham's and Etham Shire's census populations have been: 
| Area | Census date | Population |
| --- | --- | --- |
| Eltham | 1871 | 165 |
|   | 1881 | 388 |
|   | 1901 | 467 |
|   | 1911 | 486 |
|   | 1921 | 759 |
|   | 1933 | 927 |
|   | 1947 |  1278 |
|   | 1971 |  7117 |
|   | 2001 | 17,383 |
|   | 2006 | 17,581 |
|   | 2011 | 18,162 |
| Eltham Shire | 1871 |  2550 |
|   | 1881 |  2344 |
|   | 1891 |  2874 |
|   | 1901 |  3377 |
|   | 1911 |  3423 |
|   | 1921 |  4073 |
|   | 1933 |  5029 |
|   | 1947 |  7028 |
|   | 1954 | 11,441 |
|   | 1961 | 16,575 |
|   | 1966 | 20,211 |
|   | 1976 | 29,000 |
|   | 1981 | 34,648 |
|   | 1986 | 41,500 |
|   | 1991 | 42,670 |
Further Reading
Alistair Knox, We are what we stand on: a personal history of the Eltham community, Eltham, 1980
Alan Marshall, Pioneers and painters: one hundred years of Eltham and its shire, Melbourne, 1971
Marguerite Marshall, Eltham Shire, historic buildings, people and places, Blackburn, 1987
Briar Hill, Hurstbridge, Kangaroo Ground, Lower Plenty, Montmorency, North Warrandyte, Panton Hill, Research, St Andrews and Wattle Glen entries