Dandenong
Dandenong is situated 31 km south-east of central Melbourne on the Gippsland railway and Princes Highway. The name is thought to be a corruption of an Aboriginal word meaning lofty mountains, and referred to the ranges 20 km north-west of Dandenong. The country is flat to undulating and was originally densely forested with red gum. The Dandenong Creek rises in the ranges and runs through Dandenong to Carrum on Port Phillip Bay.
Gateway
Joseph Hawdon established a pastoral run on Dandenong Creek in 1837, overlanding the cattle from Sydney. Soon a few timber cutters and a police camp were also located there. By 1850, the whole area had been taken up for grazing. Dandenong Creek was first bridged in 1840. A road was made from Melbourne, making Dandenong, by the late 1850s, an important staging post for travellers into Gippsland. It became known as the 'gateway to Gippsland'. A township was surveyed in 1852. Milling of the red gum timber became an important industry, and charcoal burning, tanning, quarrying and brick making also flourished. A stock market was established in 1866.
The Western Port Aboriginal Protectorate Station was located north-east of Dandenong from 1840 to 1844. This area had been an important meeting and ceremonial site for Aboriginal tribes. The Native Police Corps established its headquarters there until its disbandment in 1852. The Police Paddocks were then used for breeding (hence, Stud Road) and resting police horses.
Town
By 1861, there were 40 houses in the township housing 193 people. A road board district was formed in 1865 and Dandenong Shire was proclaimed in 1873.The shire extended southwards from the township to Chelsea and taking in the future municipality of Springvale, in effect following the course of the Dandenong Creek to the coastal swamp land. Springvale remained part of the Dandenong Shire until 1955.
Presbyterian and Anglican churches opened in Dandenong in 1855, and the Anglicans conducted a primary school from 1855 until 1874, when a government primary school replaced it. The Anglican St James church was built in 1863.
The Australian handbook records the progress of the town by 1875: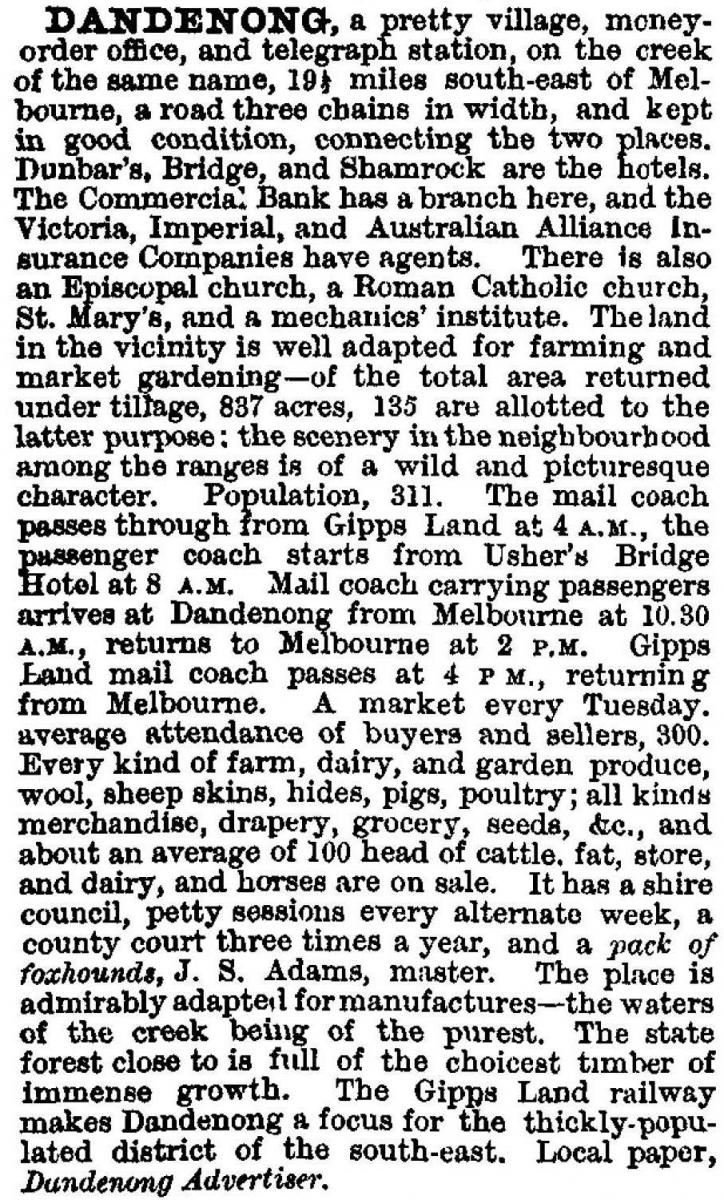 (The remark about the railway is premature, as the line from Oakleigh to Bunyip, passing through Dandenong, was not opened until 1877.)  In 1888 Dandenong became the Great South Junction when the Great Southern Railway crossed the Koo Wee Rup Swamp to Tooradin, making Dandenong the railway entry to Gippsland. The term Gateway to Gippsland was thus realised.
In 1903 Dandenong was described in the Australian handbook: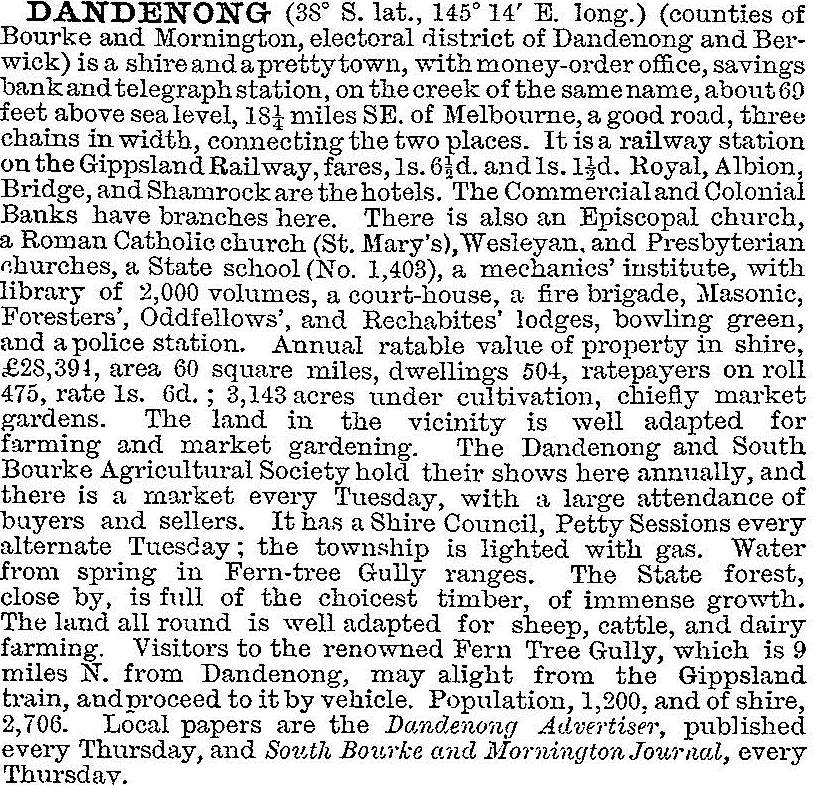 The grandiose Town Hall with clock tower, constructed in 1890, attested to the growing importance of Dandenong. Dandenong had an array of churches (Anglican, 1865, Catholic, 1866) and a well built primary school. When the State Education Department made an early foray into secondary education Dandenong was chosen as its location closest to Melbourne (and to the influential opposition of church-run public schools). Dandenong High school opened in 1919 in borrowed buildings and in an imposing building on the Princes Highway the following year. Another primary school, Dandenong West, opened in 1925. A long-felt absence was a hospital, and it took from 1937 until 1942 for the Dandenong and District Hospital to open. Dandenong was the market town for a large rural region supporting dairy farming, grazing and some market gardening. In 1926 a new cattle market was opened close to the town centre, followed by a produce market the next year. Road and railway (1887) into Gippsland passed through Dandenong and it was the junction of road and rail (1888, 1891) into South Gippsland. In 1911, there were 2824 inhabitants in the area. By 1933, there were 4270 in the town itself and another 1204 in the surrounding area. The Victorian municipal directory described its development by 1930: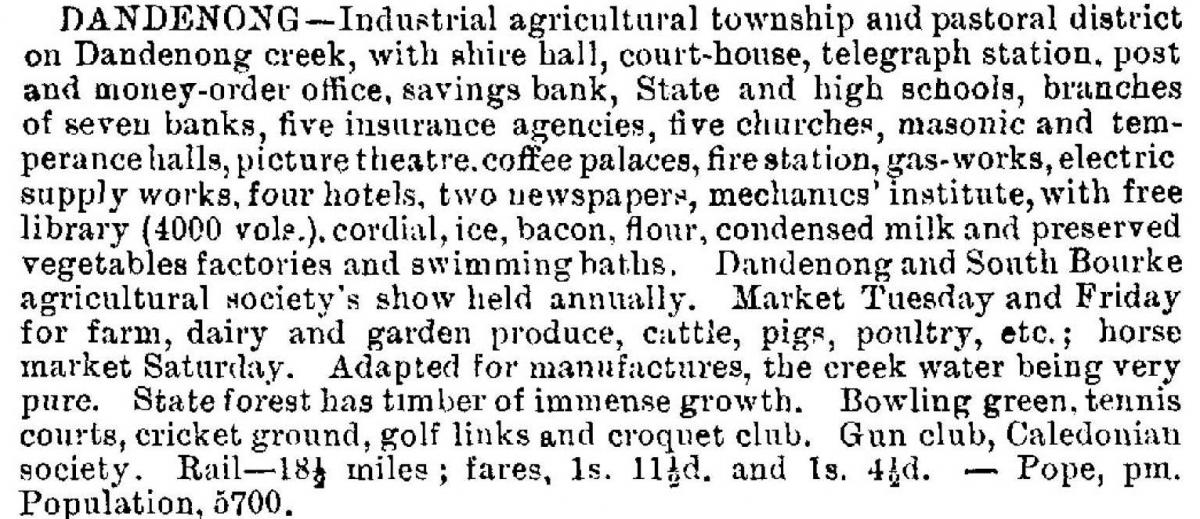 The cattle market became so large that a new site was needed. By 1959, the saleyards had moved to a location south of the town centre and the produce market expanded onto the old site. Each Tuesday, market day, brought hundreds of farmers and their families into the town.
Postwar
Although Dandenong already had some secondary industries such as Yarra Falls (1947), it retained a country town character until the advent of three large companies in the early 1950s. Heinz, International Harvester (1952) and General Motors Holden (1956) established factories on the flat land south-east of Dandenong. Many other firms, large and small, followed. The abundant new jobs attracted many workers, especially European migrants. The Housing Commission established the new suburb of Doveton, north of the Princes Highway in Berwick Shire, to house the rapidly increasing population.
Industrialized Dandenong called for trades training, and a technical school opened in Cleeland Road, just north of the hospital, in 1954. Additional State primary schools were needed: Dandenong North (1954) and Dandenong South (1961). A girls' high school opened in 1957 (now Dandenong High middle school).
Dandenong's local government was still a shire, including Springvale and Noble Park as far west as Dingley. In 1955 Springvale and Noble Park Shire were excised from Dandenong Shire, reducing it from 55 to 14 square miles. In 1959 the shire was proclaimed a city (see separate entry).
By 1994, the Victorian municipal directory described a large retail and commercial centre that had been engulfed by the spread of the metropolitan area.
New Century
Industry and manufacturing provide the main employment, with service industries becoming more important. Dandenong still retained some of its regional status, attracting shoppers from the country to its large retail complex. Regional police headquarters, Magistrates' Court, large hospital and associated services and TAFE college are located there. It is still at the centre of an extensive transport network, with a busy railway station and bus interchange. The cattle market closed in 1998. Although then one of the busiest markets in Victoria, it was located on prime real estate close to the centre of Dandenong.
Central-area shopping was boosted in 1989 with the opening of Dandenong Plaza, which in 2011 had a department store, discount department stores and about 180 other outlets. Main street shopping subsided, and retail prosperity faltered when manufacturing industries closed. House prices flattened in the 1990s, making Dandenong affordable for new arrivals.
In 1990 34.2% of the population were born overseas in non-English speaking countries, and 9.7% were born in overseas English speaking countries.
As the new century opened it was possible to speak of 'Little India' eateries around Foster Street and the 'Afghan Bazaar'. This was additional to Dandenong's postwar multi-cultural history, visible with a Lutheran church (1962), the first of four Orthodox churches in 1959 and a Polish Seventh Day Adventist church, among others.
In 2007 a Revitalising Dandenong programme was launched, involving housing for up to 3000 residents on the old livestock market site, a boulevard treatment for Lonsdale Street and railway station improvements. (Eastlink and Monash Freeway intersecting at Dandenong North add to the area's position as a transport hub.)
Dandenong has a popular Arts Festival. An historical precinct is centred on heritage-listed and significant buildings between McCrae and Langhorne Streets. Part of the Police Paddocks had been incorporated into Churchill National Park. An obelisk and bronze plaque mark the site of the old barracks.
The Dandenong Creek flanks the eastern and southern sides of Dandenong, and is joined by the Yarraman Creek which defines Dandenong's western boundary The streams have extensive linear parks, particularly well appointed where Dandenong Creek approaches the city centre.
Dandenong's census populations have been:
| area | census date | population |
| --- | --- | --- |
| Dandenong | 1861 | 193 |
|   | 1871 | 311 |
|   | 1881 | 494 |
|   | 1901 | 1127 |
|   | 1911 | 2824 |
|   | 1921 | 3926 |
| Dandenong and Dandenong West | 1933 | 4660 |
|   | 1947 | 7316 |
| Dandenong | 2001 | 16,623 |
|   | 2006 | 16,728 |
|   | 2011 | 24,919 |
| Dandenong, Dandenong North and Dandenong South | 2001 | 43,670 |
|   | 2006 | 43,727 |
|   | 2011 | 47,187 |
Note: After 1947 population data only published for shire/city.
At the 2011 census two notable religious affiliations of Dandenong's population were:
affiliation
% of population
 
Dandenong
Australia
Eastern Orthodox
6.5
2.6
Islamic
24.1
2.2
Further Reading
N. Brennan, Chronicles of Dandenong, 1973
G.F.R. (pseudo), Reminiscences of early Dandenong, 1935
J.M Uhl, Dandenong - from slab hut to city, 1963
Marie Fels, Dandenong Police Paddocks, East Melbourne, 1986
Sue Jarvis, The character of nineteenth century Dandenong (1971, 2001), Dandenong, 2001
Dandenong North, Dandenong South, Dandenong Shire and Greater Dandenong City entries