Bass Shire
Bass Shire (1929-94) was south-east of Melbourne, facing the east side of Western Port Bay. Its area extended into Gippsland as far as Loch, Kongwak and Wonthaggi. Its coastal towns included Grantville, San Remo and Kilcunda.
The shire was proclaimed in 1871 as 'Phillip Island and Woolamai', with an area of 669 square kilometres. Phillip Island was severed in 1928 and the reduced shire was named Bass in 1929.
The name arose from the maritime exploration by George Bass (1771-1803) in 1797-98. Bass entered Western Port Bay by the entrance between Phillip Island and San Remo, and named the island's southern cape 'Woolamai'. Going further, Bass found a freshwater river on the eastern side of the bay, today's Bass River. Subsequent British and French explorers surveyed the bay in 1802 and Tasmanian settlers, the Andersons, formed Victoria's third permanent white settlement (after Portland and Port Phillip) on and in the vicinity of Bass River.
The shire's European settlements were along the coastline, usually only a few years before school openings: Bass (1866), Grantville (1872) and Kilcunda (1880).
In the northern part of the shire the land rose from the coast to hills, which descended to the Bass River valley which runs south-west from Loch. Farm settlements were established along the valley, rising up into the hills on either side. They were served by a railway line from Nyora on the Great South (Gippsland) line. The railway (1910-78) was built to serve the Bass Valley and the Wonthaggi coal mines. (Before Wonthaggi, coal had been mined at Kilcunda during the 1870s-80s, and transported to San Remo for shipment.)
The main rural industry after timber was cleared was dairying. There were dairy factories at Almurta, Woodleigh and Bass River in the 1880s-90s, but the one that endured was at Archies Creek (1903-83). Most inland villages had schools. Proceeding along the railway from Nyora there were:
| school | year/s |
| --- | --- |
| Woodleigh | 1881-1978 |
| Kernot | 1920-1978 |
| Almurta | 1888-1954 |
| Glen Forbes | 1906-1978 |
| Woolamai | 1915-1978 |
The Bass Valley consolidated school at Corinella now serves these localities. All had churches and halls. Almurta's hall fell into discard, the others continue. Kernot's church is a Presbyterian memorial building constructed in 1956.
Bass Shire was described in the 1946 Australian blue book: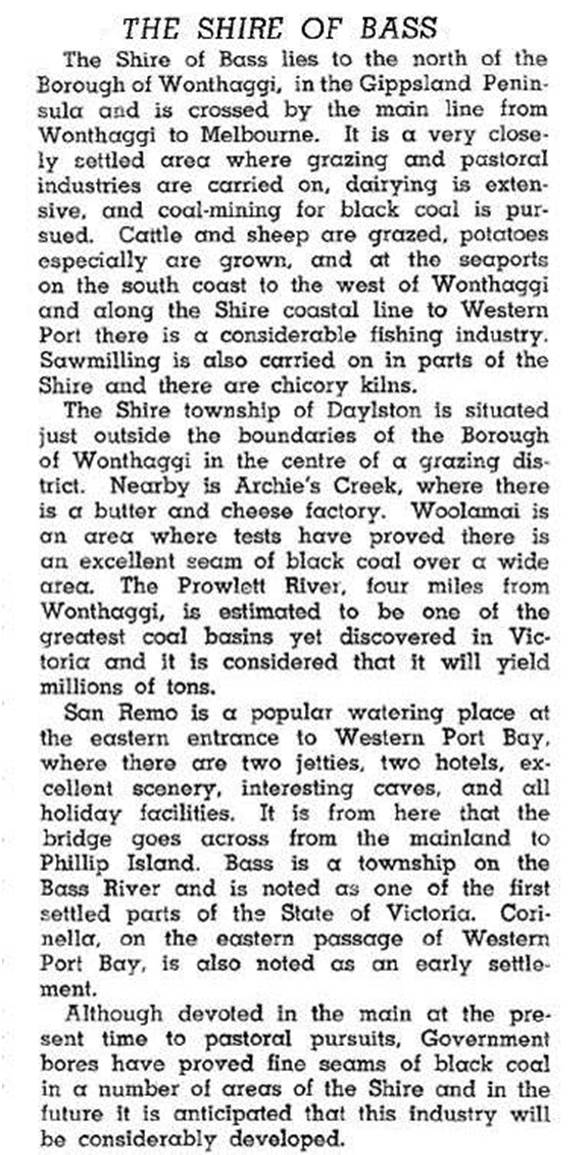 Population growth in the shire was marked up to the 1920s. From the early postwar years populations were static, declined in the 1970s, and rose in the 1980s as coastal living developed. There was no particularly dominant town. The shire's headquarters was at various places: Cowes (1872-76); San Remo (1876-1913); Dalyston, Kilcunda, Bass, Cowes (1913-23); Dalyston (1923-c1980); Archies Creek (c1980-94).
In 1994 Bass Shire had 42,600 meat cattle, 24,000 dairy cattle and 22,300 sheep and lambs. Farming occupied 80% of the shire's 526 square kilometres.
Bass Shire was amalgamated with Phillip Island Shire, Wonthaggi borough and parts of Korumburra and Woorayl Shires to form Bass Coast Shire in 1994. Its census populations were:
census date
population
1891
1999
1901
2791
1911
3857
1921
5100
1933
  4611

*

1947
3818
1901
3851
1971
3752
1981
3390
1986
4220
1991
5110
* Phillip Island severed
Further Reading
A guide to the history and beauty of the Bass district, Bass, c1985
Jan Harper, Three stops on the line: a history of Kernot, Almurta and Woodleigh, Kernot, 2003
Thomas Horton and Kenneth Morris, The Andersons of Western Port, Bass, 1983
Joseph White, One hundred years of history, Shire of Bass, 1974
Archies Creek, Bass, Corinella, Dalyston, Glen Alvie, Grantville, Kilcunda and San Remo entries