Barkers Creek
Barkers Creek, an agricultural and horticultural locality, is about midway between Castlemaine and Harcourt, 110 km north-west of Melbourne. It is situated on a creek of the same name.
Dr William Barker (1818-99) took up the Mount Alexander pastoral run in 1845, and in 1851 four of his employees found gold in Specimen Gully, a tributary of Barkers Creek. It was the first formally recognised discovery in the district, and led to the Mount Alexander gold diggings. A cairn erected in 1931 commemorates the discovery.
The Barkers Creek alluvial mining drew hundreds of miners, and later there was (less profitable) quartz mining and hydraulic sluicing. In 1858 a Wesleyan school and a post office were opened. By 1865 most of the gold had been mined, but quartz and slate quarrying were started. Barkers Creek also had three hotels, and an estimated district population of 800. Its cricket club (1857) remained active.
Barkers Creek was described in the Australian handbook of 1903: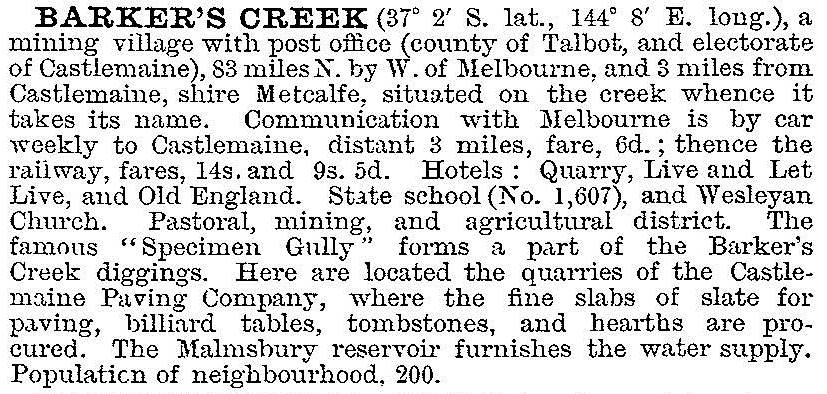 In addition to the hotels there were Methodist and Anglican churches and a Church of Christ, a Rechabite Hall, a general store and a school with 50 or more pupils in the early years of the twentieth century. At the close of the century the recreation reserve and the Church of Christ continued, although the Old England Hotel on the Midland Highway was restored, but unlicensed. Numerous houses were built in Barkers Creek for people living out of town. The school closed in 1993.
Barkers Creek's census populations have been:
| area | census date | population |
| --- | --- | --- |
| Barkers Creek | 1911 | 184 |
|   | 1947 | 168 |
|   | 1966 | 109 |
| Barkers Creek and environs | 2011 | 411 |
Further Reading
Howard Carr, Barkers Creek: birthplace of the Mount Alexander goldfields, the author, 1999