Armadale
Armadale, a residential suburb 7 km south-east of central Melbourne, is situated between Prahran and Malvern. Its boundaries are Orrong, Malvern, Glenferrie and Dandenong Road. It is named after Armadale House, the residence of James Munro (1832-1908), Premier and Attorney-General, speculator and failed land-boomer. Munro was born in Armadale, Sutherland shire, Scotland. Armadale House (1876) is heritage-listed.
In 1879 when the railway line was connected between South Yarra and Oakleigh a station was opened at Armadale. This resulted in a commercial centre around the station and residential subdivisions nearby. A State primary school was opened in 1884. Several large residences in generous grounds were built. Some survive, but mostly in diminished allotments. Armadale was described in the Australian handbook, 1893: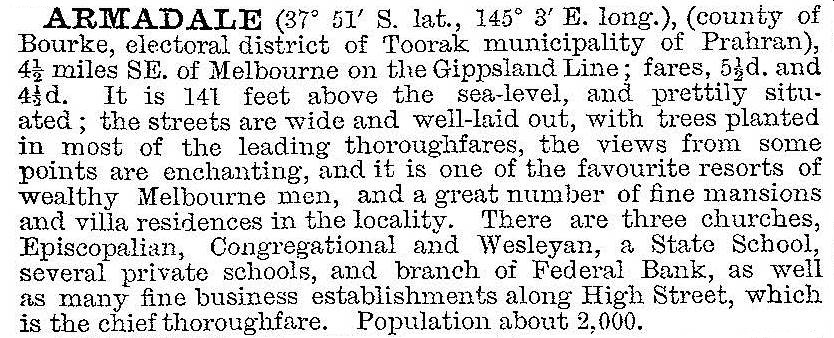 Beginning near the railway station, shops extend eastwards along High Street to Glenferrie Road. An early structure was the Armadale Arcade (1893) which has a walkway to the station. Armadale was described in the 1903 Australian handbook:
In 1910 the tramline was extended along High Street to Tooronga Road, joining the High Street shopping strip to the Glenferrie Road strip. A tramline along the southern edge of Armadale (Dandenong and Wattletree Roads) was opened in 1928 and along the northern edge (Malvern Road) in 1915. Lauriston Girls' School at Malvern and Huntingtower Roads, was opened in 1907. The Jewish King David School (1978) has three campuses in Armadale. Armadale primary school had 363 pupils in 2014.
Armadale is best known for its shops in High Street catering for antiques, decorative furnishings, art, bridal and fashion wear. Notwithstanding criticisms of high shop rentals, the trade maintains a strong presence in High Street. Around the corner from High Street is Glenferrie Road, Armadale's other shopping strip. Armadale's median house prices during 1987-96 were about double the median prices for metropolitan Melbourne; in 2012 they were a little over triple the metropolitan price.
At the 2011 census residential dwellings in Armadale comprised:
| Housing type | % of all dwellings |
| --- | --- |
| Detached house | 33.8 |
| Semi-detached, row house | 24.5 |
| Flat, apartment | 41.0 |
Armadale's heritage-listed structures are Armadale House (1876), the State primary school (1886), the Prahan and Malvern tramline poles in Dandenong Road (1910) and a tram passenger shelter at the corner of Malvern and Orrong Roads (1917). The Malvern tram depot in Coldblo Road on Armadale's eastern border is the repository of numerous tram depot honour boards. Although not heritage listed, the Anglican, Uniting (former Methodist) and Baptist churches in Kooyong Road are imposing buildings.
Armadale's census populations have been:
| census date | population |
| --- | --- |
| 1911 | 4298 |
| 2001 | 8302 |
| 2006 | 8467 |
| 2011 | 8760 |
At the 2011 census over 10% of residents who expressed a religious preference were affiliated with the Greek Orthodox or Judaic faiths.
At the 2011 census residents' median incomes were 70% above the Victorian median and 41.5% of employed residents were classed as professional (Victorian 22.3%).